Catching Up with Cross Country
The 2020 Girls Cross Country team won the State Championship with the Boys as the Runners-Up!
The runners get into position, the gun fires, and just like that Marist Cross Country is back and better than ever. This high intensity, challenging sport has been a powerhouse at Marist for as long as any student on campus has been alive. The girls' team is consistently one of the best in the state, and the boys work incredibly hard every season, setting new personal records left and right. At practice, you can see runners diligently preparing for every single meet. 
This season, cross country looks a little different than before. Runners have had to adjust to the pandemic by wearing masks at every meet, during warmups, and basically anytime they aren't running. The team this year is determined to fight off the virus while fighting their opponents on the course.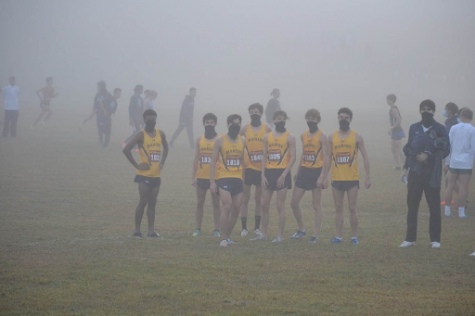 Although the season is slightly altered from last year's, the same values, dynamics, and togetherness remain. This year's team "has a lot more depth on both the boys' and girls' side," Head Coach Matt McMurray '12 said. "Just looking at where we were last year to where we are this year, there's just been a lot of growth, a lot of improvement, and a lot of hard work." 
On the weekend of Oct. 16, the boys put up an average time 17 seconds faster than the team average on The Coach Wood Invitational Course last year. They finished 15th overall, led by Diego Palmisano '21, Jaylen Mallett '21, Caden Strickland '22, Mac Felty '22, Lorenzo Gastaldi '22, Jack Lloyd '21, and Clay Cosgrove '21, respectively. In that same course, the girls placed second overall, finishing Ruby Little '24, Nicole Pizzo '22, Kate Selover '23, Johna Grisik '22,  Emily Delmonte '23, Anna Kalbas '21, and Maya Arena '22, respectively. This is thanks to all the summer workouts, the committed coaching staff, and the hard-working athletes. 
One week later, the cross country team defended their home turf in the AAAA-6 region championships. The course ran fairly slow, but that didn't stop both the boys and girls teams from getting the win. The girls had a dominant showing, sweeping the race for a perfect score. Ruby Little '24 won the race in a time of 18:42, absolutely destroying the competition. Coming in second was Nicole Pizzo '22, followed by Johna Grisik '22, Kate Selover '23, Anna Kalbas '21, Emily Delmonte '23, and Nicole Barrios '24. The boys looked strong as well, scoring 17 points at region, only 2 points off a perfect score. Diego Palmisano 21' won the race, finishing with a 16:31. Jaylen Mallett '21 and Caden Strickland '22 were very close behind, with times of 16:35 and 16:39. They were followed by Mac Felty '22, Lorenzo Gastaldi '21, Enoch Woldu '22, and Brice Richards '22. Both teams are completely locked in and preparing for their next meet, the state championships on Nov. 6th. 
While the years of successful seasons are due to the diligence of the coaches, the runners display grit and passion that anyone can admire. Most seniors on the team have been a part of this tight-knit community since freshman year. The journey from a timid 9th grader to a confident senior is one seen across many sports here at Marist. "As a freshman, I joined the cross country team as a way just to get in shape and meet people," LJ Watson '21 says. "Now I see it as a way to be a leader for the team." Another consistency seen across sports is the balance of schoolwork and athletics. Watson organizes her time by being "efficient in [her] study halls and us[ing] those to do homework so that after a long day of practice, [she] will not have as much work to do." 
This program has consistently had one of the best cross country teams in the state. McMurray says this is thanks to tradition. "This was a team built on Coach Roy Benson's back," he says. "[Benson] taught this community and this school what it meant to be a true distance runner." Benson coached at Marist School from 1993 to 2008, where his girls and boys teams won sixteen state championships in cross country, and individual runners won a total of twenty state titles in cross country and track.
"The journey from a timid 9th grader to a confident senior is one seen across many sports here at Marist."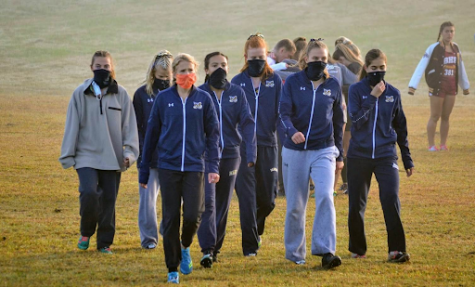 As the season comes to a close, Coach McMurray and his cross country team have been training to take on the State Championship on Nov. 6. After a disappointing eighth place finish last year, the boys are looking to rebound and win their first state title in 3 years. Diego Palmisano '21 and Jaylen Mallett '21 will both be in the running for the individual title. "Our boys look stronger than ever this year," said Caden Strickland '22, "and I know we have the talent and the depth to make a run this year at state." On the girls' side, they too are looking to bounce back from an unexpected third place finish last year. That loss broke an 11-year streak of first place state finishes for the Marist girls. This year, they are heavy favorites in 4A and have shown the ability to compete with other top teams in Georgia all season long. Freshman Ruby Little will aim to compete for the individual state title. Both of these Marist squads are looking strong going into State, hoping to bring the 4A Championship trophy back to Marist.