Q&A with this year's Emmaus Board
"May the fish be with you" means something extra special for these five seniors on the 2019-2020 Emmaus Board.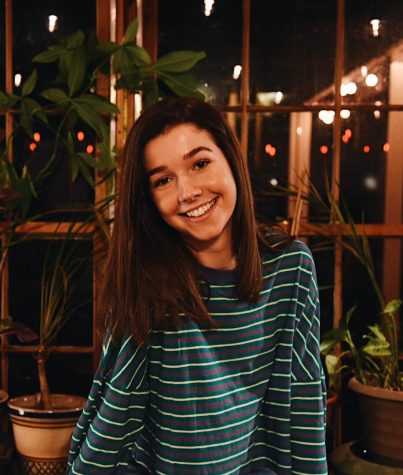 More stories from Alexis Derickson
One hundred and eighty-three fish have swum through Holy Trinity, Alabama. On Marist's Emmaus retreat, well-known for its catchphrase "may the fish be with you," one hundred and eighty-three groups (><183>) have already traveled to Holy Trinity for a retreat to remember. Recently, I spoke with the five seniors on this year's Emmaus Board (Conner Abshier, Matthew Davis, Emma Strickland, Izzy Wagner, and Brynn Werner) to find out what exactly the retreat loved by so many is and what it means to live Emmaus.
Q: What are the basic facts of Emmaus, like what grade can you go on it, where is it, what is it, etc.?
A: Emmaus is a retreat for juniors and seniors led by seniors in Holy Trinity, Alabama. When people talk about Emmaus, they are usually referring to one of the three retreats that take place throughout the year for juniors and seniors. The Emmaus retreat has been a tradition at Marist for over thirty years. Every year in October, January, or February, a group of Marist students drive up to Holy Trinity, Alabama, for a weekend-long retreat.
Q: What is the meaning behind the name "Emmaus?"
A: Emmaus is the town to which the two disciples were walking when Jesus approached them after he was resurrected. These two disciples did not recognize Jesus as he was talking to them. But after the disciples arrived at their destination, Jesus sat down and broke bread with them. At this point, the disciples' eyes were opened to Jesus and they intentionally chose to follow him.
Q: What is the goal of the retreat/what do you want retreatants to take away from or
experience on Emmaus?
A: The weekend is a getaway from whatever stresses or distractions you face in your daily Marist life. Emmaus opens up the opportunities to explore your faith or just meet new faces you never would have encountered in your normal busy schedule.
Q: What goes on behind the scenes of planning the retreat from your unique perspective on the board?
A: We meet with the leaders of each specific retreat five times before the retreat for two and a half hours on Wednesday nights to prep. The first three retreats of the year are standard with little differences to make each one unique, but senior Emmaus will be brand new and completely created from scratch. Though we, as board members, may have a little closer peek into the behind the scenes of the retreat, all of the leaders take equal responsibility in the preparation and execution of each big weekend. Everybody plays an important part in the, hopefully, seamless great retreat.
Q: What is your favorite part of Emmaus?
Emma: I love small group time. I think that small group time is just such a unique opportunity to grow in relationship with God, while also talking to and connecting with people who I normally don't talk to in such a special setting. There's something really cool about that.
Izzy: There's no feeling quite like the one I get when sitting on the bus on the way back to Marist. Although it's a bittersweet feeling, because I know the retreat is over, I get an overwhelming feeling of love during the time in which I sit on the bus and reflect. Little moments like that, when I'm thinking back to a conversation I had or things I heard on the retreat, are the best parts of the whole experience, in my opinion.
Matthew: The monthly Monday meetings feel like a mini Emmaus. Regardless of workload or extracurricular events, taking the time to attend the meeting and share little stories teleports me back to my first experiences at Holy Trinity. Being able to take a break from distractions for just an hour takes a huge weight from me and allows me to connect to those that shared.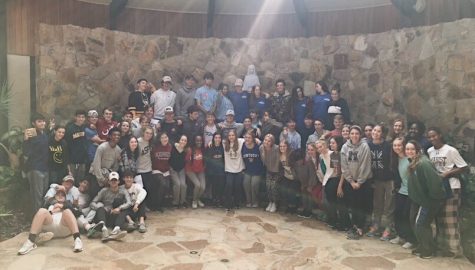 Q: What is the symbolism behind the fish of Emmaus?
A: When an early Christian was speaking or meeting with someone new and did not know if they were or were not Christian, the Christian would draw half of the fish in the sand and if the other person completed the other half, both people would know they were in company of a fellow brother or sister in Christ.
Q: Is there anything else you would like to share?
A: All juniors and seniors can stop by the chapel at 7 p.m. on the first Monday of each month for an Emmaus meeting! It doesn't matter if you have been on the retreat or are planning to go, anyone can stop by to experience the spirit of Emmaus!