A Legacy of Excellence: Marist Girls Cross Country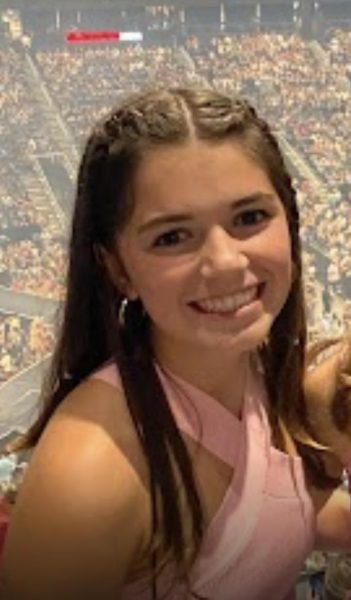 More stories from Cosette Lane
Marist cross country has been a program of excellence for years. Every runner pushes him or herself to be the best they can possibly be. Two runners in particular display excellence in the program: Ruby Little and Coach Harkins.
Ruby Little now leads the team with her personal record of 17:39 for the 5K. Coach Harkins graduated from Marist in 2011, ran at Princeton, and has rejoined our school's cross country program as a coach.
Ruby Little is currently Marist's best female runner. She even devoted her summer to preparing for this cross country season, including running in Colorado for altitude training. Ruby began her running career at age seven; however, she did not love the sport from the start. Describing her first years as a future cross country athlete, Ruby explained that her mother would "bribe me before each meet, and I would fall down crying after each meet saying I hated it."
In fifth grade Ruby finally began to enjoy running, and she has loved it ever since.
Ruby is a junior on the team this year. When asked how she views herself on our school's cross country team, Ruby stated, "I want to be a leader and positive role model by leading by example and encouraging the girls to reach high goals."
Everyday at practice and at every meet, Ruby embodies this attitude of self-improvement. She cheers for others during their workouts and races, she works incredibly hard to be the best runner she can, and she always has a smile on her face while doing so.
Throughout her years as a runner, Ruby has won her share of races. Her favorite win was Wingfoot her sophomore year. Wingfoot is a Friday night race, and teams in Georgia and throughout the Southeast come every year. Going into the race she wanted to win. The race itself was very "invigorating," according to Ruby.
She was neck and neck with Caroline Hood, a runner from Pace Academy, the entire time. Such close competition "made her run with a little bit of fear," said Ruby. During that race, Ruby realized that in racing, "the one who wins is the one who digs the deepest."
Ruby's current goal is to defend her state title on November 5th at the 6A state championship. She is excited, Ruby said, "to see the girls' hard work pay off in a few weeks."
Coach Harkins is currently a Marist cross country coach. She also led the team during her years at our school. Her personal best for the 5K was 18:19.
 Coach Harkins' entrance to the sport was very different than Ruby's. She did not start running until seventh grade and did it "to help make friends as a new student at Marist," Coach Harkins said. The friendships she developed with the girls on her seventh grade team stayed strong throughout high school and beyond.
Although she started running as a seventh grader, Coach Harkins knew early on that she wanted to run in college. Her Marist coaches were "really supportive," according to Coach Harkins. She had "a lot of trust in their training approach, as their main goal was to help set me up for continued success in the future."
Transitioning from high school running to college running is difficult because the velocity of training increases substantially. It's also difficult to manage college classes in addition to training. "It took most of my freshman year to adjust to a brand new training program and being in a new environment," Coach Harkins explained. Luckily, Coach Harkins continued, "The team clicked from the start."
She loved having a group of women supporting her, who she could go to for advice. Even though it was hard to balance college on top of being a varsity athlete, Coach Harkins feels now that she was set up for success. "I had tutors available for every possible subject, team trainers and doctors on-site, and incredible facilities at my fingertips," Coach Harkins remembered.
After graduating college, Coach Harkins continued to run; however, she suffered an injury in college that left her with metal plates and pins in her left leg. She presently begins her morning with an easy run and will usually run 30 to 40 miles per week. Like all natural and hard-working athletes who love their sports, she hopes to race more competitively soon.
Throughout her six years at Marist, running brought Coach Harkins most of her favorite memories. "The relationships that I made and lessons that I learned—both running-related and beyond—have stayed with me ever since," said Coach Harkins.
That is why she was so excited to return to the Marist cross country program as a coach.  The "privilege to watch the team up close as they carry out Marist cross country's continued tradition of excellence," Coach Harkins said, is why she keeps pushing herself and others as hard as ever.
About the Writer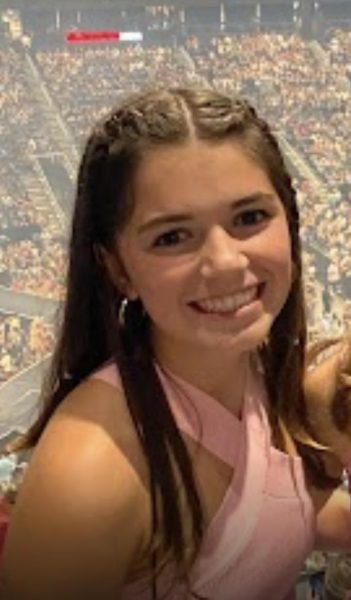 Cosette Lane, Editor
Cosette Lane joined the newspaper staff as a sophomore in 2022 because of her love for writing and researching. Cosette runs cross country and track at Marist and is an officer of Habitat for Humanity. Outside of school, Cosette loves reading, listening to music (especially Taylor Swift), spending time with friends, and babysitting. Her dream vacation is a relaxing and adventurous trip to Italy.