Marist Cross Country: A Tradition of Excellence
More stories from Stella Chambless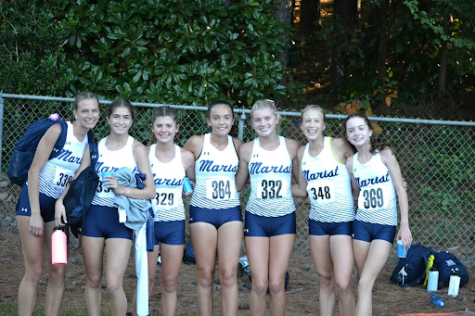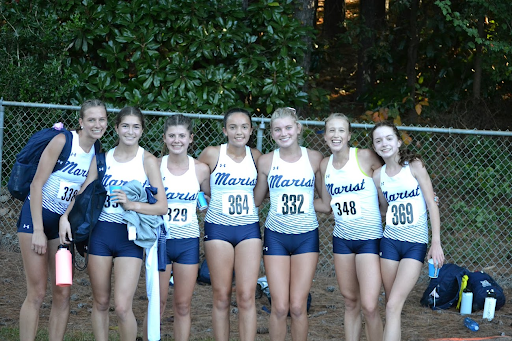 Cross Country here at Marist is a sport, a passion, and an extracurricular activity, but to many, it is so much more. Marist Cross Country has consistently been the best team throughout Georgia, winning state championship after state championship: 34, to be exact. The key to this powerhouse's success lies beneath its surface,  with training regimens and practice schedules. Marist Cross Country is a community deeply rooted in tradition and strong foundations. Throughout the years, there have been many different coaches and athletes, but the team's principles have always remained the same. 
Valuing the team over the individual is a large part of the Cross Country team's success. This tight-knit group grows incredibly close throughout the season, encouraging and pushing each other to be better every day. Most seniors regard the friendships they have made through Marist XC as "some of the strongest bonds [they] have made throughout high school" (Nicole Pizzo '22). Paige Lange '22 says that "Marist XC opened the door to meet so many new people that would eventually become my closest friends." The special community created through this sport plays a large role in its success. Each runner feels comforted knowing that the whole team is behind them and is looking forward to seeing them succeed.
In any sport, hard work and dedication are key to a rewarding season. Training for Cross Country starts in early June, with runners working all summer long in order to be ready for the season's start in August. Coach Matt McMurray said that team captains "ensured we had strong attendance all summer." Carefully crafted training plans guide each runner in cultivating their skills. Different workouts focusing on different aspects of running paired with easy, regeneration days throughout the week help each runner to reach their potential. Generally, long runs occur on Sundays, with the highest mileage logger, Caden Strickland '22, putting in about 14 miles. Long runs are key to a runner's endurance, speed, and even mental health. Coach Emma Grace Hurley says that "the thing about the long run is that it is not just physical; it can be a mental and emotional marathon. As physical endurance builds, this weekly ritual also builds us into resilient and perseverant people." Eating right and sleeping enough are also two huge factors in a runner's success. It is important to "never be too big to do the small things that need to be done" (McMurray '12). Without proper nutrition and sleep, the questions this sport forces athletes to ask of their bodies will go unanswered. 
The GHSA Cross Country state championships took place November 5th, 2021. The team devoted hard work in the two weeks prior in order to run their hardest at the course in Carrollton, GA. Most of the runners have competed at Carrollton High School in previous state races or at the Carrollton Orthopedic Invitational earlier this season. At that race, the girls and boys finished first and fourth, respectively. Competing in a state championship is the goal sought after by most high school athletes. State is an opportunity to display the work put into a sport on a larger scale. The Marist Cross Country team ran in the AAAA race, facing off against tough competition on both the girls and the boys side. The girls finished first, and the boys finished second after a close and hard-fought battle with the Chestatee boys. Both seasons ended victoriously, and both are looking forward to an exciting track season. With a new track in place, Marist runners are situated better than ever to achieve greatness. The official season opener is February 23rd in Milton, GA. Come out and support!