A Blue and Gold Christmas: Exploring Marist's Christmas Traditions
More stories from Caroline Baljet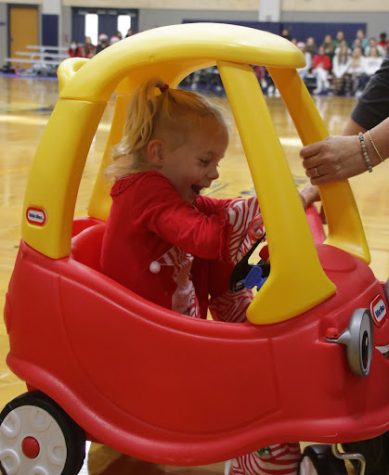 With the 2021 holiday season behind us, let's look back at what Christmas was like at Marist this year. From Holiday Traditions giving us the perfect early start at the end of October to the annual Christmas assembly, it has been a busy couple of months on campus. As temperatures dropped at the beginning of December, we all felt the spirit rushing in the door. 
With decorations everywhere you looked, it was hard to miss the famous Christmas wish tree standing tall in the arcade. Christmas wishes have been a tradition for three years now and it will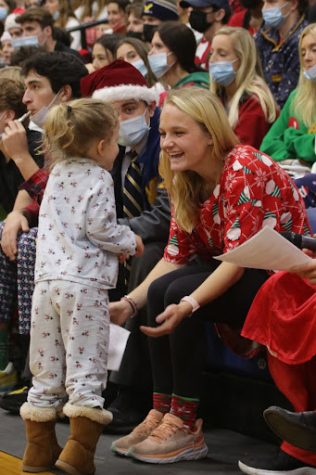 continue to be a favorite. We all look forward to hearing the end-of-day announcements tell us what wishes had been granted that day.
One of the best wishes granted this year was a one-on-one basketball game during office hours. Students packed in Khurt gym to see the takedown between English teacher Matt McMurray '12 and Substitute Teacher Bobby Perez '14. Another granted wish resulted in Substitute Teacher Coordinator Micah Akin '13 to learn a TikTok dance. Lastly, my personal favorite: Student Council gifted a brand new (Fisher-Price) car to the ELC! The best part of the Christmas assembly was seeing them run up in excitement to the tiny car.
The Christmas assembly was a record breaking eighteen minutes this year! It featured candy canes, Christmas wishes, and Christmas carols. The eighth grade girls joined the chorale class in singing the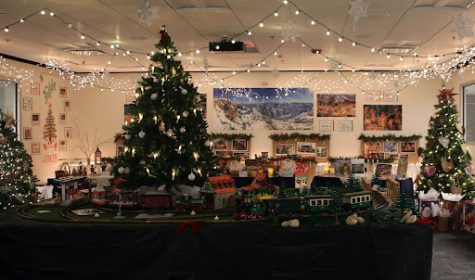 classic songs we all know and love. The costume contest was better than ever this year with a senior "Frozen" trio including Else, Anna, and Olaf.
All these fun events got us in the spirit and ready for the Christmas season. By the time the last bell rang on Friday, we were all ready to celebrate with our families. The true meaning of Christmas shines through when we are surrounded by the things and people that we love most. The end draws nearer faster and faster, but it comes back around every year.
About the Contributor
Caroline Baljet, Faith Editor
Caroline is a junior at Marist, and it is her second year on Blue and Gold. She is involved in theater, dance, and tennis. Her favorite book is American Royals. She is also an editor on the yearbook staff, student council, and is a retreat leader. In her free time, she likes to hang out with her friends and visit new places. She is excited to write for Blue and Gold again this year.