A Vaccinated Marist Faculty
How did Marist distribute vaccines to faculty and staff?
It's hard to believe that we've been stuck wearing face masks and socially distancing for over a year, but the recent vaccine distribution has helped bring life closer to normal. According to the Centers for Disease Control and Prevention, over 165 million vaccinations have been administered in the United States, which is slightly more than half of the U.S. population. On March 12, 2021 (exactly one year after the World Health Organization declared COVID-19 a pandemic), Marist offered vaccinations to all faculty and staff while students were still enjoying spring break. While it was a massive undertaking, the process ran smoothly thanks to all who helped organize it.
Nurse Zoe Pappas was the primary coordinator for the distribution, and several others contributed to the success of the vaccination process. Marist underwent a complicated process of ordering special storage equipment, applying to become a vaccination site, and working with Tuxedo Pharmacy. "Tuxedo Pharmacy help[ed] us secure doses . . . [and] learn the very complicated government charting system," said Pappas. 
After receiving the vaccine shortly after arriving, teachers waited fifteen minutes to be monitored for any adverse reactions, and each staff and faculty member received a vaccination card. All those in attendance received the Moderna vaccine, which has a 94.1% effectiveness rate at preventing coronavirus in people with both doses according to the CDC at the time of the writing of this article. On April 9, these faculty and staff returned to receive their second dose at Marist, too.
Pappas expressed her thanks for the "awesome group from the Marist community" such as Head of Maintenance Art Diaz, nurse Dorothy Burns, nurse Caitlin Ezzell, Associate Registrar Joan Guhl, and Dawn Sansine from Tuxedo Pharmacy that helped the day run smoothly.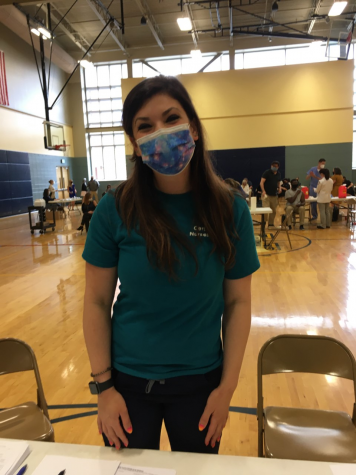 Pappas is most looking forward to the "end of social distancing" once life can become more normal. Recently, Kevin Lisle, a chemistry teacher and recipient of the vaccine at Marist, offered some information on the process. "I checked in, and within a couple minutes, I had already received my first dose." He also described the overall distribution as "remarkably efficient" since he was only on campus "for about 20 minutes." Apart from a common sore arm that he experienced, Lisle expressed joy at finally receiving the vaccine after so many months of waiting. Much like almost everyone on the planet, he looks forward to "not wear[ing] a mask at all times." Additionally, Lisle would like to thank Guhl, Burns, and Pappas for all their dedicated work behind the scenes to ensure the campus remains as healthy and safe as possible. 
It's been a hectic few months, but if all vaccine distributions run as smoothly as the one for faculty and staff, life should hopefully come closer to normal soon. Vaccines from companies such as Moderna, Pfizer, and Johnson & Johnson help society inch closer to no more masks, no more social distancing, no more lunches in the pollinated Arcade, and a more enjoyable way of life overall. Again, a tremendous thanks to all the nurses, staff, and outside members that helped to coordinate such a complex event. It's hard to imagine life before coronavirus, but if carefully planned distributions like the one at Marist continue, the whole campus can finally, wholly reunite at some point not too far off.