Six-Foot Singers
How Marist is Holding a Tune During the Pandemic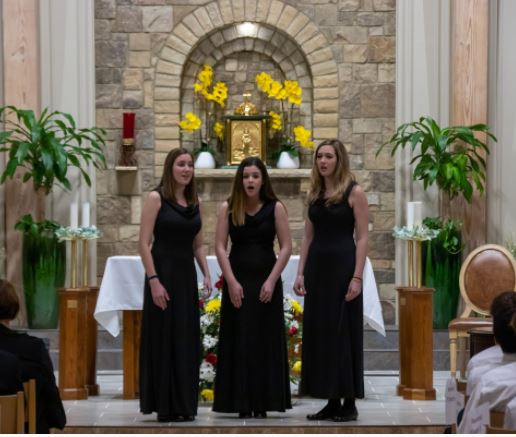 There is no doubt that Marist excels in athletics, where football and basketball games dominate Friday nights and volleyball and softball games keep fans engaged on weeknights, but one cannot forget about the incredible vocals the student body hears every day. These voices belong to none other than the Marist vocal ensembles: Trio, a group of three female singers; Quartet, a group of four male singers, and Marist Singers, a collection of jazz vocalists. The voices you hear during the National Anthem at the end of every school day? That's the Marist Singers.
But how will these musicians keep the music going during the ever-changing world of COVID-19? While this situation remains fluid, some new information has come to light regarding the future of the program and the role music will play in the Marist Fam this year.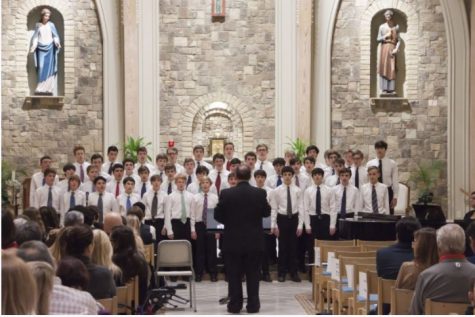 As of this writing, no concerts have been scheduled for the coming year. However, if the pandemic has taught us anything, it is that there is almost always a virtual alternative. In this case, the choral department is looking at a few virtual concert setups for all to enjoy. These virtual concerts would involve prerecorded singers vocalizing in harmony, similar to those viral videos you may have seen of many college acapella groups. For the most recent fall theater performance of "Unprecedented," singers recorded their singing by themselves in advance, and the same remains true for musicians and vocalists for prayer services this year.
One benefit of a virtual concert is, since there would be no need for social distancing, that many members of the Marist School community could attend.. This means that many students can come out in support of their musically-inclined peers, which is something that means so much to the performers. No matter what this year of music looks like, the Marist Singers, Trio, and Quartet will keep the music playing.