Transitioning to Marist in the Middle of a Pandemic
Transitioning to any new school can be difficult, and adding a global pandemic into the mix makes it even more challenging. However, Marist's fantastic resources for new students have eased this transition in the middle of a crazy year. 
One of the most beneficial programs for new students at Marist is the Peer Leader Program, which helps new students meet people and receive guidance from a junior or senior peer leader. According to Ellie McKibben '24, a new freshman, "the peer leader program has been really helpful because…there's more familiar faces and they're there to answer questions." McKibben's peer leader, Leighton McLeod, even teamed up with another peer leader/student pair, which meant both new students received guidance from upperclassmen and grew closer to a fellow new freshman. 
Another great aspect of Marist's unique Peer Leader Program is the small group activities, which help the students become acquainted with their new peers as they embark on a journey at Marist together. While these peer groups have been different this year, they have helped countless incoming students find their place at Marist.
Along with Marist's Peer Leader Program, after-school activities and extracurriculars allow several new students to meet their classmates and become more involved at Marist. Spencer Camastro '23, a new sophomore this year, noted that "[t]he only difficult thing…has been meeting people, but football helped a lot with that." Similarly, McKibben thinks 9th grade cheerleading allowed her to meet people she may not have had a chance to interact with otherwise because they are in a different hybrid group.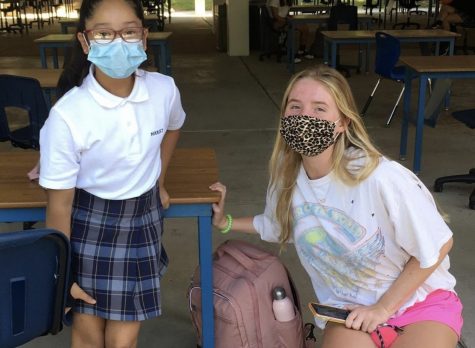 While sports helped Ellie and Spencer get involved at Marist, many new students have taken advantage of Marist's other great activities. For instance, new War Eagles have had the ability to act in the fall play "Unprecedented" and join the numerous clubs offered at Marist. The new Programming Days on select Fridays have allowed many clubs to meet during these unique times, easing the transition for incoming students and making school life feel a bit more normal. 
Finally, Marist's daily schedule, which was altered due to COVID-19, allows more time between classes, which has been a benefit for new and returning students alike.
While this year is a challenge for everyone, numerous programs on campus aid new students as they dip their toes into the new waters at Marist.