Halloween Night in 2020
Halloween with COVID-19…more trick than treat, we think!
Halloween. It's the season of costumes, candy, scary movies, and now, a pandemic. No matter your age, trick-or-treating is an enjoyable and fun activity, but it's tricky to grab a bag of candy from six feet apart. 
Halloween fell on a spooky Saturday this year with a full moon with Daylight Savings Time ending the next day. This night was setup to be one of the best nights of the year; however, COVID-19 has other ideas. Curious to know students' thoughts on Halloween, we asked 9th graders to imagine a world without the pandemic. Then, we had them answer a survey about the scariest day of the year.
Starting with the controversial topic of candy corn, most people agreed that it was indeed delicious, though, as expected, it was tied with chocolate for the best candy to grab from your pillowcase.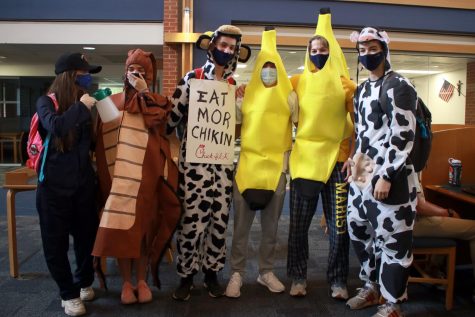 Sadly, most people have outgrown their days of trick-or-treating around their neighborhood, yet almost all the students we interviewed are dressing up in cute costumes rather than scary ones. However, many said they love horror movies and yes, they also believe in ghosts. The freshmen agreed that the movies The Nightmare Before Christmas and Coraline are October essentials.
When asked about their feelings for this Halloween, students said they were a little disappointed that Halloween looks different this year, but many still planned on spending the night with family or friends. Another downside to COVID-19, but one that will hopefully refrain from repeating again next year.
Although students said they loved Halloween, they all agreed that Christmas was their favorite holiday. Better luck next time, spooky season!
As for now, students will enjoy treats within their own homes. It's clear that the "tricks" were saved for this year. The treats shall come.