An Inside Look at Virtual School
An interview with a faculty member and 9th grader teaching and learning from home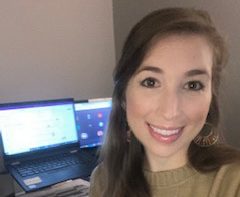 In light of the pandemic, many students and faculty have been learning or teaching entirely from home. For a variety of reasons, certain members of our school community have chosen to stay home for the time being, and we spoke to one teacher and one student who have been virtual since the start of the school year. They share their thoughts, provide the nitty-gritty details of what virtual learning is like, and explain what it means to be together while working and learning miles apart. 
The first interview spotlights mathematics teacher Dessie Stowe. Stowe has chosen to go completely virtual due to the impending delivery of her new baby. She details her experience as an all-virtual teacher while trying to navigate the impacts of COVID-19, technology, and a classroom full of separate students.
What is the hardest part about teaching from home?
It's really hard not being able to interact in the classroom with the students. I miss forming those relationships in person and getting to know students better that way. It's just not the same as meeting through a computer screen!
Is there anything you wish you knew going into this beforehand?
Thankfully, we had a trial run in the spring so I already knew a fair amount of things that I wanted to change about my virtual teaching.  I felt more prepared for the start of the term this school year.
How do you stay organized?
I'm already a very organized person; however, teaching virtually requires a lot of planning. I am constantly working on my lesson plans ahead of time to make sure I am fully prepared for each week, so I have to make sure all of my handouts and lesson videos are ready to go in advance. I also keep a running checklist of everything I need to do for each of my class periods so that I don't accidentally forget anything. It's a lot to keep up with!
How do you keep kids motivated and engaged?
This is definitely a challenge for all of us. I try to be my usual self on camera so that students feel comfortable to ask questions and participate in class. Also, I send a fair amount of emails to students each week to encourage them about getting in missing assignments, staying on top of deadlines, etc. I definitely try my best to keep students interested in the class and to stay engaged, but I know this is an area I can improve on in terms of incorporating more virtual games and activities.
Are there any perks to being a completely virtual teacher?
One is being able to change into my stretchy pants when I need to because being pregnant and comfortable in normal clothes can be quite the challenge!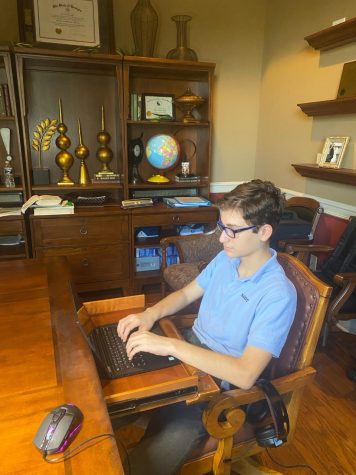 Like Stowe, Alec Issa '24 has opted to be full-time virtual for now. His time at home is described as anything but ordinary. He describes what works, what doesn't, and gets to the bottom of what it means to be a completely virtual student. If you would like to hear more from Issa as he navigates virtual schooling, follow his YouTube channel @TheTorch.
What's the hardest part about learning from home?
The hardest part is that I can't really participate in hands-on work in robotics, which is one of my favorite activities. However, during programming days, it is possible for me to go to the robotics lab. And there are ways to participate virtually by designing robots on Onshape, suggesting ideas with my group during meetings, and using the robotics kit Mr. Michaud gave me to complete my building assignments.
How do you stay organized?
I organize everything just like I would if I was in school. I still use my agenda and binders.
How do you stay motivated/engaged during class?
Thinking about all the blessings that I have (especially having a fully remote option) allows me to always stay motivated and engaged.
Are there any perks to being a completely virtual student? 
Virtual learning has given me tons of advantages like sleeping longer and not wearing a mask for hours. You don't have to run from class to class. You don't have to drive long distances back and forth between school and home. Instead of those long drives, you can finish your homework at home. You can access tutorial 5 days a week. The advantages go on and on. 
Marist School has never experienced anything quite like these troubling times, but as a community, we have adapted, grown closer, and powered through our challenges. Our best advice is to encourage hybrid students to keep in touch with their fully virtual classmates and teachers to see how they're holding up. Keeping the sense of togetherness that Marist has cherished for so long is important in a situation like this.