Interview Series: Dr. Bieze
Dr. Michael Bieze kicks off this series of interviews with Ryan Langner '21
More stories from Ryan Langner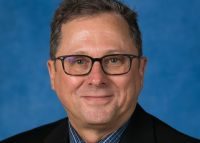 I recently came across a celebrity discussion on YouTube that inspired me to create a new interview series. The structure is simple: I, the interviewer, will ask the interviewee(s) three questions that have been picked at random out of a hat. Question topics range from light to serious, simple to dense, and out of the box.
The inaugural interviewee is none other than Fine Arts Department Chair Michael Bieze. The beloved AP Art History teacher has taught at Marist for nearly 30 years. Bieze grew up in the suburbs of Chicago before moving to Tempe, Arizona, for his undergraduate studies at Arizona State University. He later lived in the Seattle area, where he learned and taught at the University of Washington. Bieze then moved to Atlanta and began teaching at Marist School while simultaneously earning his doctorate at Georgia State University.
The first question pulled asks, "Where were you living, where were you working, and what were you doing when the 9/11 attacks happened?" Bieze was living in Atlanta at the time and teaching studio art. "Every classroom had a moveable TV back then," he recalled, "and Mr. Fecas came into [my] room that morning around 9 a.m. to tell [me] to turn our TV on." Bieze vividly remembers all of his students wrapped around the TV in a semicircle, with wide eyes glued to the screen. An announcement made by the principal over the school intercom stated to not turn on the TVs, to return to normal class activities, and to avoid "whatever was happening in New York City." Of course, Bieze could not bear to turn off the news as horror unfolded. The room witnessed United Airlines Flight 175 crash into the South Tower of the World Trade Center on that fateful morning. "The question of 'was it a terrible accident?' was no longer being asked amongst the students after that; terrorism was sure to blame," Bieze said.
The second question reads, "Do you care about the environment? Do you actively recycle? Do you wish that you or others cared about the environment more?" Bieze chuckled and said, "Yes, I do care. Do I do everything I possibly could? Am I putting my life and soul into the environment? No," said Bieze. "But we do recycle paper, plastic, and glass." Bieze feels that no one would flat out say "no" to this question anyway. In his mind,  everyone cares about the environment, but some care more than others. "We are leaving a smaller carbon footprint by recycling and using a cistern to collect water for irrigation purposes at our house," Bieze said. "I would say that we are probably more environmentally careful than the average person, but I wish that we were average or below average." Bieze says that he would consider driving an electric car to further decrease the levels of carbon dioxide in the atmosphere. "We should all do something. It matters. Our planet always matters. We need to care for it the way that it has cared for us," he added.
Finally, the third question asks Bieze, "Have you ever gotten into a car accident? What happened? If it was not your fault, were you mad or angry?" Bieze says he has been in several car accidents, but none compare to the one that happened when he was a senior in high school. He was living in the suburbs of Chicago at the time and was driving with a buddy when he approached a red light. While waiting to proceed through the intersection, a drunk driver rear ended Bieze at upwards of 60 miles per hour. The impact launched him through the windshield and totaled his car. Bieze's friend lost a kidney in the crash, and both were in the hospital for a while. Bieze says that, to this day, he always looks in the rear view mirror when stopped at a traffic light to see if anyone is going to rear end him again. "The difference between now and back then is that the drunk driver who hit us simply got a ticket and a slap on the wrist," said Bieze. He was "free to drive after that, no prison time, no nothing." Looking back to the early 1970s, Bieze says laws were not as severe as they are today.
In closing of part one of this interview series, I wish you all well and that you remember the lives lost on September 11, 2001, value our environment and our world, and keep an eye on your rearview mirror at the intersection.
About the Contributor
Ryan Langner, OP/ED Editor
Ryan Langner is a senior and the OP/ED Editor for the Blue and Gold at Marist School. A linguistics lover, he is highly involved in French at Marist; Ryan is a two-year French National Honor Society member, a peer-to-peer tutor to French I and II students, and a four-year member of French Club. In addition, he is a Cross Country runner and Swim & Dive manager, a fundraising officer for Habitat for Humanity club, an Emmaus retreat leader, a volunteer at the showhouses for Atlanta Homes & Lifestyles magazine, and an avid traveler (pictured is Ryan in San Clemente, California)! He enjoys writing for the Blue and Gold because it is an outlet for not only himself, but for all Marist students to express their opinions and beliefs.