So What's With The New Dungeon?
An inside look into the new Goizueta Center for Immersive Experience and Design
While students, faculty, and staff were away for remote learning and summer break, construction crews were busy renovating the basement of the Wooldridge Building. Now that the new space has opened, many new features and improvements are open for exploration.
When one first walks into the building from the circle, they are greeted with an open, modern atrium. The building has lots of glass and natural light, which makes it seem less like a dungeon. Once one begins traveling down the main hallway, the Immersive Theatre can't be missed! Not only is this room stunning to look at, but it can also be used as a new and innovative way to teach.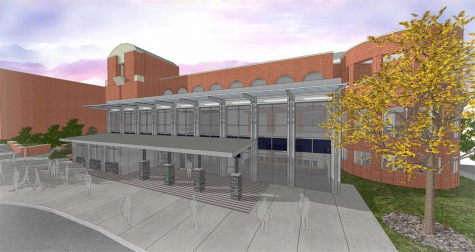 Also in this area are new and improved classrooms for Business, Computer Science, and Engineering Department teachers like Reinald Yoder and James Showfety. Yoder said that he was impressed with "how clean it feels" and really liked how sleek the redesigned level looked overall.
Additionally, the MBC broadcast studio has moved from the M00 Building to the Center and now features a podcast studio as well. Alongside the remodeled classrooms is an expanded Robotics Lab and the Material Design Lab. When not being used for student projects, the Material Design Lab, like the lobby on the first floor of Ivy Street, serves as a superb place to study or hang out with friends.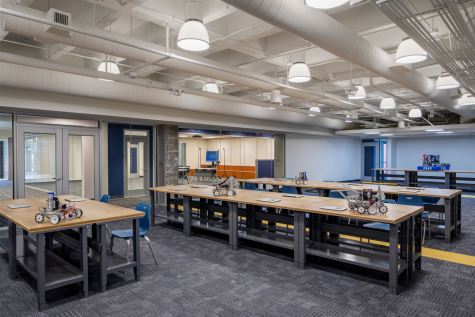 The largest area in the new space is the new, massively upgraded Robotics Lab. The lab now includes a glass wall, lots of space, and an open ceiling. "What's really important to me," said BCE Department Chair and Robotics Lead Coach Christopher Michaud, "is the people," and he is more than thrilled to be teaching others in a wonderful new environment. 
And these spaces are not the only ones to receive a renovation! The Admissions Office is now located in the atrium of the lower level of Wooldridge, a prime location for prospective families visiting campus. Associate Director of Admissions Angela Elledge '88 loves the new home base for Admissions and is excited to have a window in her office space, the first time in all her many offices around campus! As part of the renovation to the dungeon, the school expanded the main floor of the library to create a brand new Father Colin Conference Room and an expanded office for Director of Campus and Student Activities, Amelia Luke '01. "I went from having the worst office to having the best," said Luke.
Overall, the entire renovation looks amazing, and it is fantastic to see all the new spaces being put to use by the community. The revamped dungeon gets a solid 10/10 in my book.