War Eagle Marching Band Captivates Friday Night Lights Audiences
There's nothing quite like it—the buzz of the stadium lights, the roaring of the crowds, the sound of the coaches yelling at the top of their lungs, and the smell of barbecue and popcorn not far off.
Of course, I'm talking about a Friday night football game. But I'm not one of the players.
As the school year begins and fall settles over our campus, the gray skies and reddening leaves are brightened by the promise of thrilling varsity football games after school every Friday.
As quarterbacks and receivers take to the field and cheerleaders excite the crowd with high-flying choreography, another uniformed group is there, ready to support another Marist victory: the Marist War Eagle Marching Band.
If you squint—I mean really squint— over the hoard of tightly-packed students, posters, plastic horns, and the renowned Touchdown Taco, you can see us.
We're a blue hoard with those unmistakable white pants, hats, and Chuck Taylors, complete with various woodwind, brass and percussion instruments.
Our drum major this year is the fantastic senior Patrick Sheesley, who is watching the game from atop the stand that seems to rise above the crowd like the hull of a ship.
During timeouts, between plays, and whenever else we can fit a quick stands tune, the marching band is there to bring as much pep and excitement as we possibly can to lead the War Eagles to another victory. 
After two quarters of non-stop football action comes halftime. Go ahead and grab a snack; we'll wait while the other team's band plays.
They were good, right? Yeah, go ahead and give them obligatory applause, but you haven't seen anything yet. Now, it's our turn. Patrick leads us in a line down to the 45-yard line, and we get into formation. As soon as he finishes his salute, the show starts. 
This year, our show features the music of the Electric Light Orchestra (ELO) with songs such as "Twilight," "Evil Woman," "Mr. Blue Sky" and "All Over the World."
It's around ten minutes of non-stop movement, noise, and action. Each member of the marching band and color guard knows exactly where to go at what point in the music to create an overall picture that you can read from the very top of the stands.
And yes, playing in the band is just as fun as it looks! Before you know it, you'll be on your feet, dancing and singing with the rest of us. The music and mood is that magnetic. 
In addition to performing our show at halftime, we also participate in a couple of band competitions each year. These are contests between bands from all over Georgia to determine who has the best music, technique, and drill of all.
Also, if you come out and support, you can watch not only our show but also halftime performances from other bands.
This year we'll be doing something extra special: performing at the Cheez-It Bowl in Orlando, Florida during halftime with bands from across the nation. In addition to being watched by thousands of people at football games and contests, we will be seen by millions at the Cheez-It Bowl and on television. If you're concerned about missing us on TV, don't worry. You can't miss us with those one-of-a-kind bright, white pants! 
We know being a part of the marching band already seems absolutely awesome, but we need more members. We are a very tight-knit community with loads of music, inside jokes, laughter, and snacks.
If you enjoy playing an instrument, throwing flags, or jamming out with the rock band, you would have a blast with us during next year's football season. Even if you don't play an instrument, we can still accommodate you and fit you right into the drill.
We would love to see you on the field with us. Go War Eagles!
About the Writer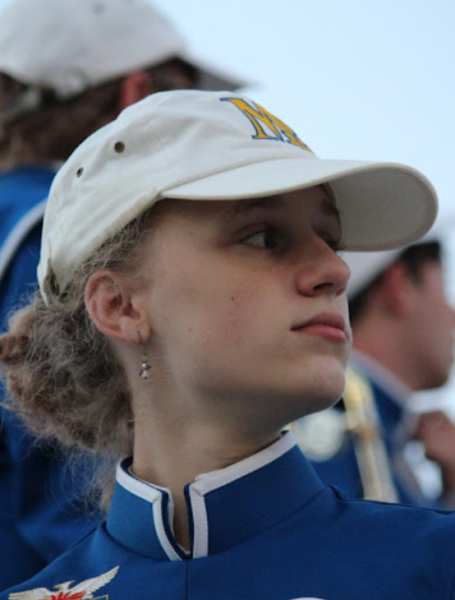 Emma Schramm, Staff Writer
Emma Schramm began writing for the The Blue & Gold newspaper in her freshman year and has enjoyed it thoroughly ever since. She is also part of the Marist War Eagle Marching Band and theater production crew. In the meantime, Emma is probably drawing or feverishly negotiating with the publishing industry to get her novel published.