Behind the Scenes of Marist
      Has your bus ever broken down on the way to an away sports game? Or have you ever noticed the freshly groomed sports field that seems magically prepared before your game? What about your chemistry classroom that miraculously cleans itself day after day? No, there are no little elves working at Marist to facilitate its functionality. The secret actually lies within the grounds staff at Marist, something many students know very little about. The majority of the grounds staff has been working with Marist for nearly ten years, and they do very important jobs, such as keeping us safe and keeping both classrooms and sports fields ready for activity. Personally, I had no clue anyone or anything about the beating heart of Marist until I sat down with Art Diaz, the Facility Director.
      Diaz has been working at Marist for 14 years and previously worked in Indiana for 25 years, where he also worked in maintenance. Although Diaz did not attend Marist, he attended a Catholic school all the way from grade school to college. Besides his work in maintenance, Diaz was also a coach at Marist. His fondest memories, Diaz said, was "coaching both J.V baseball and softball and working with my fellow coaches and players." As a coach, Diaz loved encouraging his players by making funfetti cupcakes after a victory. Diaz grew very close with his players and made lasting impacts on them, by either visiting them during breaks, "stopping at QT to get slurpees on the way back from away games," or just his conversations with his players in the dugouts. Diaz also enjoyed "working with (former) Marist's school president (Fr. John) Harhager."
      As the Head of Maintenance, Diaz has the opportunity to work with all the crew at Marist. One thing students might not realize, Diaz said, is "how hard the cleaning crew works to get everything ready for the next day." The crew not only cleans buildings and classrooms, but they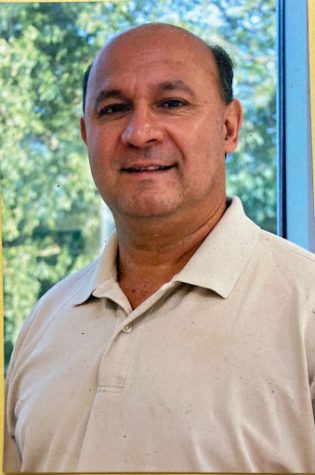 also set up and take down events almost every night. 
      Diaz spends lots of time on campus, arriving at 6:30a.m. each day and leaving after he drives the bus to the MARTA station around 3:50. Within this time frame, he not only ensures that athletics run smoothly and Marist students stay safe, but he also sees students on a daily basis. Diaz said, as he is a people person, his favorite part about his job is "interacting with everyone on campus and being able to put a smile on someone's face" . On the other hand, Diaz said the hardest part of his job is going on vacation without thinking about the Marist campus and its needs, something every Marist student should be thankful for, always having a watchful eye over our campus.
      When he is not helping around Marist, Diaz said he "likes to just go places in Atlanta, and most of the time [he] does not know where he is going." He also loves to cook, so he watches lots of cooking shows. He also enjoys going back to Indianapolis, where he can be with his children and grandchildren.
     Finally, I had to get a better idea of what "maintenance" really entailed, and what an average school day looks like for Mr. Diaz. First, Diaz "meets with the maintenance guys outside of [his] office and goes over the things [they] need to accomplish for the day." Next, he drives students on the MARTA bus back to Marist, as well as driving the bus back to the MARTA at the end of the day. Once back from the MARTA station, he "checks to see how things look from what the maintenance crew did earlier," some days helping the crew and others he does not if he feels they have it under control. On some days, Diaz and his maintenance crew help by "setting up for events like mass or football games," which generally take the longest time because there are a lot of moving parts. However, Diaz is not limited to only tasks around campus as he "takes the role of being responsible for everything [his] department does," including security, grounds, housekeeping, maintenance, and transportation. 
      After meeting with Mr. Diaz, I have a great appreciation and understanding of all that happens behind the scenes of Marist that helps our school function. Without these vital workers, Marist sports and academics would never be the same, and I urge everyone to say thanks often to these wonderful people!