Putting Girls' Soccer Center Forward
How one student laid a foundation to start Marist's Girls Soccer team.
For 75 years after its founding in 1901, Marist was an all-boys military school. In 1976, the first girls were integrated into the school. In those early co-ed years, athletic opportunities were limited for girls, as the school was still building the female population. Many clubs and activities were open to girls, but their athletic options were limited to volleyball, basketball, track, cheerleading and tennis. There was not a girls soccer team, and there wouldn't be one until the late 1980s. But that didn't stop Kathryn Richardson Gerrick '85.
Gerrick was born and raised in Atlanta and enrolled at Marist in 8th grade. She participated in many activities such as basketball, volleyball, student council and "The Arcade," which was the name of the school yearbook at the time. While she enjoyed each of these activities, her real passion was soccer. The only problem was there was nowhere for her to play at Marist. "The school was structured around boys' sports," said Gerrick. While talking about this problem with her mother, Mary Francis Richardson, they decided they were going to do something about it. 
They approached the athletic director at the time, Dean Hargus, and asked him about the possible formation of a women's soccer team, but he rejected the idea. "Girls soccer at the time was kind of nonexistent," said Richardson. But there was still one more option for Gerrick, and that was to join the boys' team.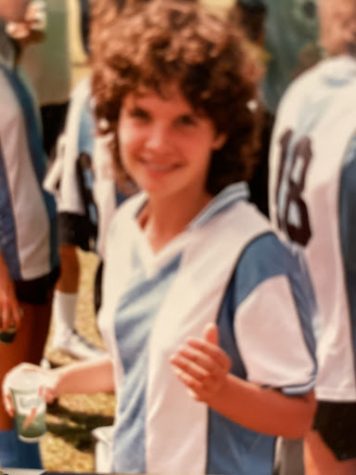 The idea of a girl on the all-boys soccer team was as completely foreign and unusual then as it is now. "It was a little daunting," said Gerrick, yet she "felt like it was the right thing to do, because there should've been more options for girls, and they just didn't exist." She joined, and the coach started her at center forward. "The only option was to play with the boys, and I was like 'Alright, I'll do it.'"
Gerrick did have some anxiety about joining the team though. "I was worried that they were bigger and more aggressive because that could result in an injury," said Gerrick. However, she soon found that "all and all, [my coaches and teammates] were open and fair."
While there were some fantastic things that came with the boys soccer team, there were also a few points that were uncomfortable and awkward. There were no girls' locker rooms, so when all the boys would go to change before practice or games, Gerrick "went to the girls restroom in the arcade on the bottom floor." Another problem was the uniform.
"The uniform was a mesh jersey," she remembers, so she "would have to wear a shirt under [her] jersey."
Despite the obstacles, Gerrick pressed on. "I wanted to just prove to everybody that girls could play just as well as boys, if not better." And she did. Gerrick played on the boys team for one year before opting out to focus on her soccer outside of school.
She went on to play on the Georgia state select team. "I made the under 16 team, and I also got pulled up and made the under 18 team," Gerrick said proudly. There was even talk of these women's soccer teams playing an exhibition at the Olympics since there was not an event with women's soccer at that time. 
Even though Marist would not launch girls' soccer until some years later, Gerrick laid a foundation that made a visible statement during her time on the boys team. "When you find yourself in those moments in life where it feels maybe a little uncomfortable to take a risk that has the potential to do good for others, do it," Gerrick said. "You can take action that is, in the big scheme of things, not huge actions, but they are impactful actions."