Letter from the Editor: Happy/Sad
One of the very first theater productions I was a part of at Marist was "The Addams Family" in 2016. In it, Gomez, the father, sings the song "Happy/Sad" to his daughter, Wednesday, as he tries to put into words what he is feeling at that moment. He is happy that Wednesday has found someone to love and marry, yet simultaneously sad that she is growing up and leaving him. It's that perfect moment where there's not a dry eye in the audience, but you also can't help but smile from ear to ear.
That resonates with me, especially as my days wearing the Marist senior polo are numbered. Us seniors are feeling this right now, that happy/sad feeling. We are happy looking back at our Marist experience and happy of what's to come in the future, yet sad to leave this place some of us have called home for the past six years. I don't want it to end, but I am also content with saying goodbye for now.
At this point in my Marist journey, I am happy for every opportunity I took advantage of, every memory I leave this place with, and everything yet to come in the future as we all head off to college this fall. Marist has changed me for good, and as a graduating class, we have changed Marist for good. 
And yet, despite all the good from the past six years, I am sad. Grateful for everything, of course, but also sad because I know this chapter is coming to a close. We're grown up now, and it is at last our turn to leave the Nest. We are prepared to stretch our wings and soar. Luckily, there are more chapters of this book to be written, and although we will keep on writing, this chapter (the best chapter) will be in our memories forever.
It's been a pleasure to deliver these six editions over the past year and an even bigger pleasure to be part of this Marist School community for the past six years. Our story doesn't end here, though, Class of 2021.
"So let's be happy
Forever happy
Completely happy
And a tiny bit
Sad."
 – Gomez Addams, The Addams Family
All my love,
Christian
About the Writer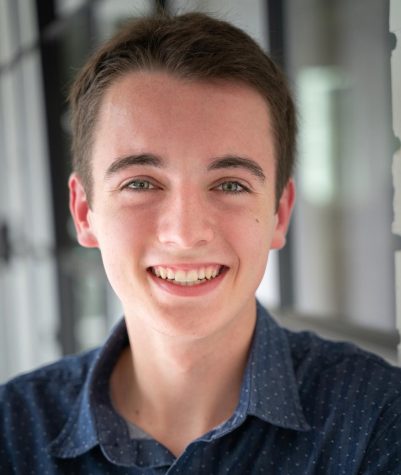 Christian Conte, Editor-In-Chief
Christian Conte is a senior at Marist School and the Editor-In-Chief for the Blue & Gold. At Marist, Christian is also involved with Theater, Student Council, Retreat Leader, Student Ambassador, is a National Honor Society Board Member, and more! His favorite beverage from the cafeteria is the Arden's Garden "Sunrise" smoothies, and Christian's favorite day of the week is #MotivationalMonday! He enjoys utilizing the platform of this newspaper to express his creativity and give a voice to everyone in the Marist Fam, and he has been a member of the Blue & Gold since 9th grade. Christian thanks you for taking the time to read Georgia's oldest high school newspaper!!