10 Reasons It Will Be Hard to Leave Marist
Caroline York '21 shares 10 aspects of Marist that she will miss the most next year.
"It's the best four years of your life."
That's what I, along with every other rising freshman, was told at the beginning of high school. Though I hope to live a full life, it will be hard to top my experience at Marist. As I look back, I think of everything, big or small, I will miss. I could have listed 3,790 things and been all sentimental and clever, but that would have taken too long, and we all have better things to do. So, here are the top 10 things, big and small, that I will miss most about this special place.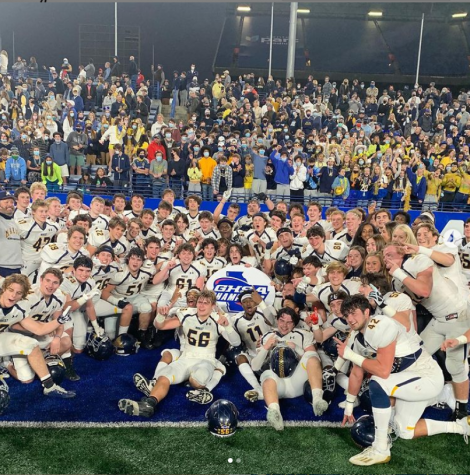 1. Marist Fam: Cheering, laughing, and plenty of glitter. These words perfectly encapsulate Friday Night Lights. Though at first I deemed the phrase cringe-worthy, I soon learned that it truly did reflect Marist's community spirit. Watching the football team win the 2020 State Championship with the entire student body there to support was the cherry on top to end my time at Marist…
2. Clubs: Through Marist's clubs, I have welcomed new students through bowling, been on a TV game show, and rode in a chariot and more. My interests vary widely, and Marist's plentiful clubs have been there to satisfy my curiosity. Clubs allow students and faculty from all different circles to meet, and I am proud to call everyone from the Junior Classical League to the Peer Leader program my friends.
3. Smiles: This year because of the pandemic, it's been harder to spot smiles, but in normal times, I have always enjoyed spotting friends' smiling faces in the hallways. Nothing's better than seeing your best friend, lab partner, or teammate in the hallway and quickly catching up on everything, which always starts with a smile.
4. Dances: Though we missed three dances because of coronavirus, I will always be grateful for the dances we did have. I don't know of any other school where it is not only acceptable but expected to sweat through beautiful dresses and tops because we are dancing so hard. Everytime I hear "Mr. Brightside" from now on, I will forever think of Marist's unofficial theme song and the sore throat I inevitably received from belting out this gem. A laughable bonus: watching and even experiencing the most awkward slow dances with 6 feet between dancing partners even before COVID-19. A great addition to the party: Mr. Collier was always there to take pictures and capture the greatest (and most embarrassing) moments. 
5. Friends: I am going to college approximately 1100 miles from most of my friends, but I know the bonds I have made will not be tested by the distance. Though we were all involved in different activities, classes, and sports, my core group found common ground in our love for Marist and everything in between. Every Marist girl, especially me, has bonded over screaming car rides with Taylor Swift.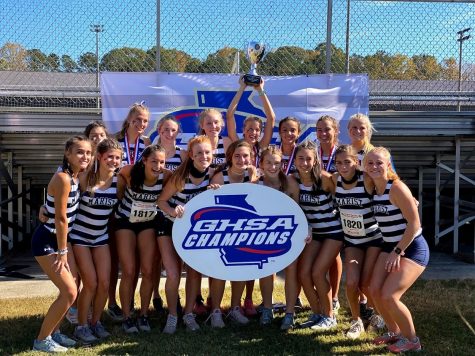 6. Sports: I was lucky enough to be on two state championship teams while running cross country. I was never the best runner, but Marist's competitive spirit and emphasis on winning pushed me to my very best. I probably won't miss 10 mile runs at 5 a.m., but the team spirit will always stick with me.
7. Classes: Yes, there were some classes I didn't love (not going to name any names!), but looking back, I have learned so much in the past four years. Did you know that U.S. citizens nearly spoke German as an official language? Or that photosynthesis happens in less than 30 seconds? Neither did I until taking some interesting Marist classes.
8. Teachers: At Marist, I became enthralled with subjects I previously thought were never for me. Art history came to life with Dr. Bieze, who showed the power of engagement that brought 250 works of art to life. I, an analytical left-brain thinker, learned to love and appreciate art from all over the world. After three years of Latin with Mr. Marier, I ended my Marist career with Latin V and am just getting started. He taught us how a 2,000 year old language could still be vibrant, and thanks to him, I will be a Classics major next year at Dartmouth.
9. Campus: Almost 60 years ago, Marist moved from downtown Atlanta to Brookhaven, and I am grateful every time I step on campus. Our acreage has given me plenty of room to run, attend classes outside, and even spot an occasional deer. My favorite spot is the parking lot, or the "lot," because that is where the action is. My friends and I talk about my horrible parking job of the day, the happenings of the past weekend and plans for the next, and recently, how much we will miss Marist.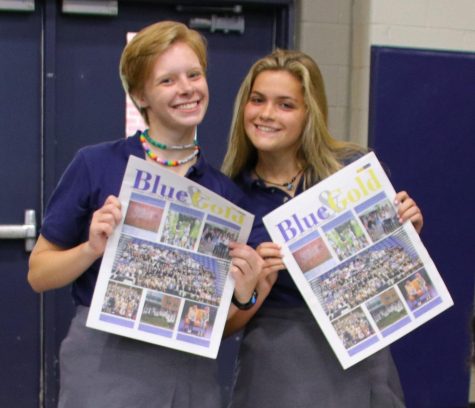 10. The Blue and Gold: The best for last. As a staff writer and eventually editor, I have covered many topics in Marist's student newspaper. Though we might not be as hard-hitting as The New York Times, we have packed a punch. Writing for the newspaper has given me a unique lens on Marist life, and I love hearing and telling the stories of everyone on campus. I'm excited to come back a year from now, even 10 years down the road, and always know what's happening at Marist with the newspaper.
Some honorable mentions: late starts, cookies, long Easter break, uniform, and activity periods.