Helping the Community One Day at a Time
Four years ago, a faculty member and group of students set out on a brand new adventure.
When Bernadette Naro was a child, her parents, volunteers in a Catholic network of host homes, opened their doors to women and children in need. Now, she is following in their footsteps and helping immigrants through her work with Share the Journey, a school club where students advocate for immigrants and refugees.
Raised in Raleigh, N.C., Naro is a campus minister and the moderator of the Share the Journey club with a background as a teacher in Spanish and religion. The club works to spread awareness about issues immigrants face. Naro and a group of students decided to do something about the refugee crisis. "I felt like the Holy Spirit kind of led us to that meeting. Then all of these students wanted to do something," Naro said. 
Sara Jane Shulman '21, one of the club's first members, agreed. "It was great," she remembers. "It was a bunch of like-minded people coming together for a great cause." Shulman knew that she "cared a lot about justice and wondered what [her] purpose at Marist was and what God was calling [her] to do."
"This isn't about politics; it's about human dignity," Naro said. "Catholics believe that every single person has human dignity that cannot be taken away. So when we see people's human dignity being threatened, we respond."
From a young age, her parents taught her that all people must make the world a better place. As Catholics, they strongly believed in building the Kingdom of God, where everyone feels valued. "My parents took their faith very seriously, so they taught us that faith was the lens of the world," Naro said. "They took action in the community, both charity and justice work. That really shaped me into who I am today."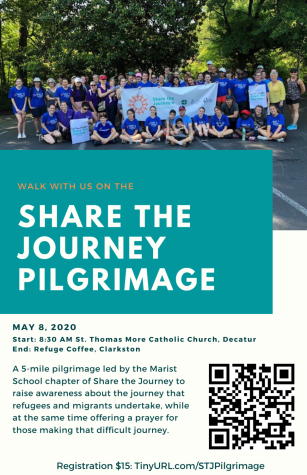 Two years ago, the club organized a 60-person, five-mile pilgrimage from Decatur to Clarkston to support refugees in the Atlanta area. The pilgrimage ended at Refuge Coffee for a meal served by a former refugee and participants reading prayers and poems. The club is well underway planning a second pilgrimage for May 8 next month. To join them, register at tinyurl.com/stjpilgrimage.
Naro has impacted Marist students through her motivation and optimism. "She is very driven, hardworking, and helps our club get things done," said Shulman. "She has helped me get more involved at Marist."
"I'm hopeful that we can carry the passion and the dedication forward and continue to make a difference," Naro said. "We all have the power to make a change and to do something big in the world. We should not be afraid of that."