Shows to Get You Through the Day
Old or new, "everyone has their favorite series" that they can never go wrong with.
Binging comfort shows and movies helps anyone escape their hectic and busy lives. Coming home after a long day at school or work leads many to plop on their couch and turn on their TV or open their laptop. The small excitement of watching my favorite show on the edge of my seat waiting for the cliffhanger to be explained or eagerly waiting to see which guy she picks lightens my mood and gives me something to look forward to after school. 
I personally prefer to watch comedic television shows to lighten my stressful mood during the day. However, many popular comedies like "Friends" and "The Office" have been pulled from Netflix, forcing many people to subscribe to HBO Max, Peacock, or Hulu to continue watching their favorite series. 
My favorite shows are the ones where I can pick a random episode and not be completely lost because it has a simple plot filled with fun jokes. I tend to watch my chosen show while playing 2048 on my phone or computer, so a TV series that requires focus to understand what is going on is not for me.
Although, some shows give me no choice but to pay attention, such as "Gossip Girl" and "Vampire Diaries." "Gossip Girl" depicts the life many wish they had, and honestly, I am way too invested. "Vampire Diaries" has the very attractive Damon and Stefan Salvator, and they are the reason I started watching the show. I never finished the show because the main character, Elena, bothered me too much. Her constant complaining and weeping made the other characters not worth watching. However, the actress Nina Dobrev is excellent because she is able to play another character, Katherine, with complete opposite character traits. Although the acting is not the problem, the character of Elena is honestly too painful to watch, so I had to stop binging "Vampire Diaries" and switch to another show.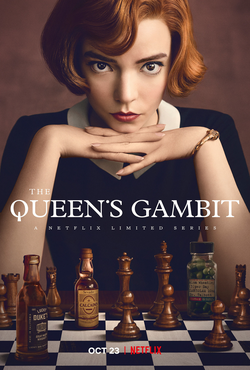 I would highly recommend "The Queen's Gambit" as the perfect show to binge in one weekend. The audience follows an orphaned girl through her global chess career full of uncertainties, romances, and a drug and alcohol addiction. This show kept me on the edge of my seat even though I have never played a game of chess before. Her complete focus on the game is something to admire, and it shows that no matter where you come from, you can use your gifts to do something memorable.  
One of the worst qualities of a show are those that never seem to end. "Grey's Anatomy" has amassed 16 seasons of watching people continuously dying off. I never understood the appeal of the show. The depressive nature and the dying off of my favorite characters caused me to lose interest in the long-running series.
My favorite television shows motivate me to get through my day so that I can relax and continue watching them. Some shows make me laugh and others make me cry, but everyone has their favorite series that they come back to whenever they cannot find anything new to watch, and I know I do.