Easter Traditions from Around the World at Marist
Different cultures celebrate Easter in different ways around the globe, and a wide range of observance can be seen at Marist!
Springtime at Marist can be seen in the newly-planted flowers, the bright green grass on the practice fields, and the Holy days off from school to celebrate the resurrection of Christ. These days can be spent growing closer with family and friends, as well as reflecting on how Jesus' sacrifice is a lesson to all. Easter also marks the end of Lent, which symbolizes His withdrawal in the desert for 40 days. Different cultures celebrate Easter in different ways around the globe, and a wide range of observance can be seen at Marist!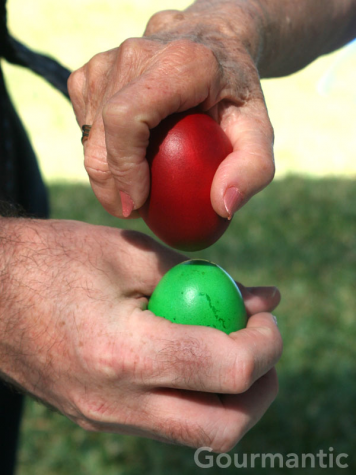 Libby Ayoob, Associate Director of the Marist Academic Center, engages in the Greek tradition of "egg tapping" every year with her family. The rules are simple: knock the egg of the person next to you until they crack. The last egg standing wins! "My mother-in-law is Greek, and she dyes the 12 eggs and organizes the whole thing," Ayoob explained. "The trick is to plan with your neighbors which side you're going to tap!"
On Good Friday, Musse Woldu '24 and his family go to church from noon to 8pm. During that time, "We pray and fast in remembrance of the passion of Christ," said Woldu. Millions of Orthodox Christians participate in this tradition worldwide. The largest Orthodox Christian Church, the Eastern Orthodox Church, has approximately 220 million baptised members. "At the end, we always eat tea and bread after not eating for a long time, and it tastes so good," Woldu said. 
At the home of Carly Kritzer '24, the Easter bunny prepares a carefully-planned scavenger hunt. "Different colored eggs are hidden around the house, and each one is filled with a clue leading to the next. They all ultimately lead to the golden egg," said Kritzer. "The golden egg contains money or gift cards, and whoever gets there first wins the prize!"
Easter Monday is a national holiday in Poland and commemorates the resurrection of Christ. Known as Śmigus-Dyngus, people pour copious amounts of water on each other. Mary Evans Bucko '24's Polish family has been participating in this tradition for as long as she can remember. "In our family, the men pour the water on the women, and this practice can be traced back to the 14th century," Bucko explained.
Passover is a Jewish holiday that began this year on the evening of Saturday, March 27, and ended on the evening of Sunday, April 4th. Passover is the celebration of the Israelites' freedom from slavery. It usually occurs right around Easter, and this year, the last night coincided with Easter Sunday! For the Firestones, Cameron '21 and Mason '25, COVID-19 altered their Passover traditions. "We usually have a big dinner with family-friends, but it hasn't been able to happen the past 2 years because of the pandemic," Cameron said. "Normally around five families get together, everyone brings food, and the story of Passover is told. This year we had a smaller get-together."
Not only is spring for the blossoming and blooming of new sports, academics, and flowers, but it is also for holidays like Easter and Passover that bring families closer together. The Marist community is lucky to have hundreds of families who engage in a multitude of traditions. Easter, and many other holidays, have taken numerous forms, resulting in a wide range of cultures, traditions, and ways to celebrate.
About the Writer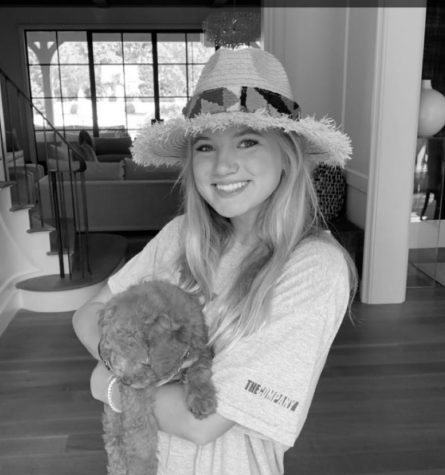 Stella Chambless, Staff Writer
Stella Chambless is a freshman staff writer and her first year writing for the Blue and Gold. Stella is involved in soccer and cross country at Marist, and hopes to participate in swim and dive this winter. In her free time, she enjoys reading, creative writing, listening to music, and spending time with friends. Stella's ideal Saturday is spent reading at the beach while listening to the waves. She hopes you have an exceptional day and go War Eagles!