Looking Forward to the Tokyo 2020 Olympics…in 2021
The upcoming Tokyo Summer Olympics features six new events, including baseball, surfing, and karate!
Billions of dollars spent, the venues built, the athletes trained, and more than five million tickets purchased by fans excited to witness some of the best athletes in the world compete. However, due to the COVID-19 pandemic, the Tokyo 2020 Olympics became another one of the many victims of a long, disappointing year of sports postponements and cancellations. Now that 2020 is behind us, the world is looking forward to the rescheduled Olympic Games set to take place from July 23-Aug. 8, 2021.
Tokyo won the bid for the 2020 Olympics back in 2013, marking Japan's fourth time hosting an Olympiad and Tokyo as only the fourth city to have held the Summer Olympics twice. Furthermore, these Olympics make history as the first to ever be postponed or canceled for a reason other than war. 
The National Olympic Stadium in Tokyo, previously built for the 1964 Olympics held in Tokyo, has received a $1 billion upgrade. It will hold the official opening and closing ceremonies, as well as track and field events and women's soccer matches. The collection of 33 venues for all 339 events are all standing and waiting for the long-awaited start of the 2020 Olympics—held in 2021.
The upcoming Summer Olympics will include six new events in its program: baseball, softball, sport climbing, surfing, skateboarding, and karate. Baseball and softball both were sports that used to be in the Olympics but have been absent since the 2008 Summer Olympics in Beijing. Since both sports are popular in Japan, the host country was able to bid for them to be included in this year's Olympics; however, there is no guarantee that baseball and softball will remain an Olympic sport after this year's Games. 
Three different disciplines will make up the sport climbing event, which requires every climber to compete in speed, bouldering, and lead climbing. Climbers must scale a 15-meter high wall in speed climbing, complete as many bouldering courses as possible, and climb as high as they can during lead climbing before multiplying their place in each discipline to determine medal winners. Shortboards will be used to compete in the surfing competition on real, unpredictable waves at Tsurigasaki Surfing Beach. 
There will be two separate skateboarding events: park and street. On different courses resembling either a street with handrails, stairs, benches, curbs and walls, or a skateboard park, riders can select on which parts of the course they want to perform and what tricks to attempt. 
Karate is separated into weight classes and consists of kata, which is form-focused, and kumite, which is sparring. Combined with all the familiar sports at the Olympics, these new events will likely be highly-anticipated additions.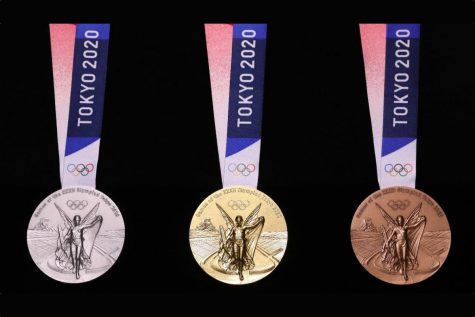 With new events come new stand-out athletes, but some old favorites are set to return again for the chance to win more medals. Simone Biles, a U.S. gymnast, is looking to become one of the oldest women to win the all-around title and the first to be a repeat champion in over 50 years.
In the pool, Caeleb Dressel has a shot at winning seven gold medals this year across freestyle, butterfly, and breaststroke events. 
Noah Lyles, an American sprinter, will be racing in the 100 meter, 200 meter, and 4×100 meter races, trying to fill a spot left by the retired Usain Bolt of Jamaica. 
Outside of the United States, 12-year-old Sky Brown of Great Britain is the youngest professional skateboarder in the world, and if she makes the Olympic team, she will become one of the youngest athletes to compete for that country. Naomi Osaka, champion tennis player, has said that she plans to compete for Japan for the Tokyo Olympics. Eliud Kipchoge of Kenya became the first person to run a sub two-hour marathon back in 2019, and if he wins the marathon in Tokyo, he will become the third person in history to win the Olympic marathon twice. 
While the final logistics of the Games are still under review, there will hopefully be some form of the Olympics to look forward to this year. Whether they plan to watch swimming, basketball, or trampoline gymnastics, the Tokyo 2020 Olympics will be a bright and exciting part of 2021 for sports fans.