Marist Theatre Triumphs Amidst Uncertainty
Tickets for Now. Here. This. are available on The Nest beginning March 15. Performances are March 25, 26, and 27 at 8 p.m in the flag circle.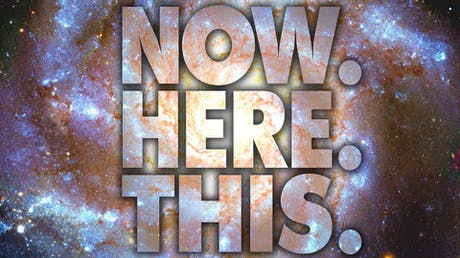 "It's the best five dollars you'll ever spend on an evening's entertainment."
You've heard this, the unofficial motto for Marist's Theatre Department, many times before, but this year more than ever, Marist's plays and musicals are striving to be the best five dollars spent.
Last fall, Marist Theatre produced a special outdoor production that featured several small one-act plays on rotations in a single night to accommodate social distancing in the age of COVID. The play was heralded a success, and students, parents, and faculty and staff alike enjoyed the unique production.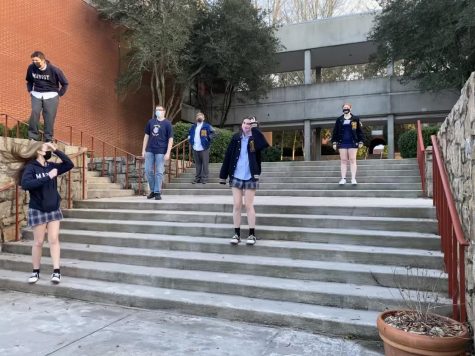 This spring, the cast is preparing to put on another outdoor performance, one that is hoped to top this past fall's magical play. The musical, titled "Now. Here. This.," is unlike any other production Marist has ever done. 
Christian Conte '21, a cast member in the upcoming production, explains that the show will be outside in the flag circle with the nearby steps, trees, and architecture serving as a large outdoor stage. He says that it will be "drive-in style, and audience members are encouraged to bring their comfiest chairs to watch the musical."
"Now. Here. This." was originally written for four cast members, but innovative Theater Director Eric McNaughton '90 redesigned the production to accommodate the company of over 25 actors. The show has a loose plot set in a museum, with themes of living in the present moment incorporated with science and time travel. According to McNaughton, "'Now. Here. This.' explores the experiences of several young people as they strive to forge friendships, find connection, and understand the universe." Conte says the musical numbers dominate the production with several solos highlighting Marist's best singers.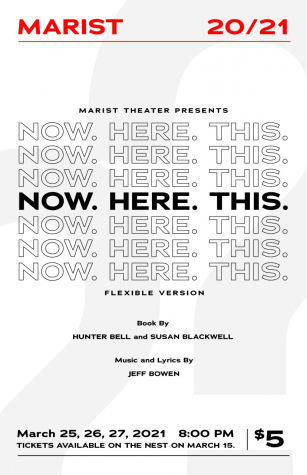 At rehearsals, the cast and crew are taking many precautions when it comes to the pandemic. Cast members are wearingArtwork for "Now. Here. This." (Eric McNaughton) specially-designed singing masks that allow them to safely belt out their melodies. Every 20 minutes, "the cast takes a break to let the air purifiers clean the rehearsal room," says cast member Moira Udja '21.
This year, understudies have a heightened role. Ujda explains that COVID-19 could force many actors into quarantine and that "understudies must be ready at a moment's notice" to step into a role.
For many actors, the production is a nice escape from the pandemic. Rehearsals "make life feel a lot more normal than usual," Emma Schwind '23 says. "Nothing makes [her] happier than telling an audience a story through scenes, songs, and dance." 
During these challenging times, Caroline Baljet '23 has found joy in "getting the hang of songs and moments when 100 separate parts all blend together."
"Now. Here. This." clocks in at about one hour and will run the evenings of March 25-27. Each night, there will be a maximum of 200 audience members who will experience the show together, just like an outdoor concert or performance.