The Future of Fashion
The stunning fashion shows and innovations during a year of firsts.
Inconvenience forces innovation. There is no better example of this than how the COVID-19 pandemic has affected the fashion industry. Designers refused to let the pandemic win in the battle of how fashion shows, trends, and fashion weeks will look in 2021. 
With so many people isolated from connection this past year, the world needs art. Art takes individuals out of the frustration and routine of their daily lives and immerses them in a world of creativity. So far, 2021 fashion has delivered chic trends just in time for spring, expanded the audience of high fashion exhibits and made this year's fashion week as memorable as past years despite the unique challenges COVID-19 has presented the industry.
Berlin kicked off the first fashion week this year, running from Jan. 18-24. For the first time in history, anyone could watch the models of German brands strut the runway virtually from home. Later in January, designers and models gathered in Paris to celebrate the semi-annual week, which is dedicated to showing off new designs and guiding the spring and summer trends for 2021. 
Huge influences in the fashion world such as Fendi, Valentino, Chanel, Dior, and Louis Vuitton followed Berlin's fashion week lead by hosting online fashion shows. Fendi set the stage for its couture fashion show on a mirrored runway with fog about six inches off the ground. Only sending one model at a time, virtual viewers were shocked to see Demi Moore working the runway. Even though COVID-19 placed many obstacles in the way of 2021, fashion prevailed and is a roaring, thriving industry.
While tuning into shows from my bedroom, I could not help but ask myself, "Is this the future of fashion?" Do not get me wrong, I can only imagine the exhilarating thrill of going to fashion week and observing the many looks live, but a small audience made the show exactly the vision the designers wanted. When it is safe to have spectators at fashion week once again, I hope the luxury brands will again live stream them. Another bright side of having smaller numbers of guests to the show was the ability for different brands to explore new opportunities they would otherwise not take. A mirrored runway, Valentino's show taking place in the Galleria Colonna, and the virtual audience are all avenues that would not have been even thought to explore if it were not for the audience-free occasion.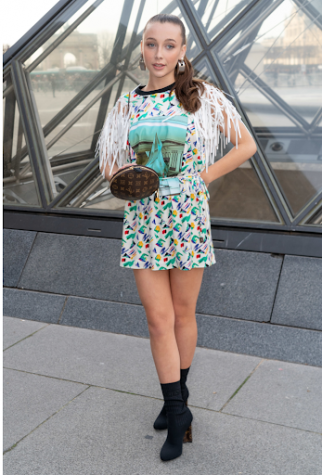 The spring/summer 2021 collections are becoming renowned with a crowd outside of the typical high fashion assembly. I credit the sudden influx of viewers of the fashion industry to the availability of the shows and expansion to internet influencers. The availability of these shows let viewers watch any time they pleased, for little or no money, and as many times as they wanted. This new breakthrough of the art form is revolutionizing modern-day dress and the way society perceives fashion.
Emma Chamberlain, Gen-Z fashion icon and YouTube personality, dedicated a video to attending the Louis Vuitton fashion show virtually for its autumn/fall collection. Vuitton teaming up with Chamberlain is genius for many reasons. The collaboration of the two allows fashion phenomenon Chamberlain to expand her wardrobe and style high-fashion pieces for everyday dress. It also expands Louis Vuitton's audience to viewers who have little knowledge of fashion and promotes fashion week to millions around the world. 
Runway fashion is meant to be picked apart. Spotting trends is subtle, repetition of a piece, color, or size is the easiest way to predict the blooming style that is seeded in the runway. Chamberlain is an expert at taking one designer piece and making it wearable in an everyday outfit. High fashion is reaching an all-time peak for observers because oodles of people are finally learning how to interpret it.
What was thought to be an industry that would get no buzz in such unprecedented times has been turned upside down and garnered a vast audience. Fashion has taken many hits but came back swinging with completely unique and unforgettable shows this year, serving us with many new trends and connecting us through our favorite celebrities.