The Marist Fam vs. COVID-19
Remaining Connected While Distant
Marist School has been split — not just into A group and B groups but into hybrid and virtual students as well. Hybrid students see their fully virtual peers on Google Meet in their Marist polo shirts, saying "here" at the beginning of class, but many do not fully understand the at-home experience.
Chebet Ng'eny '22 and Paris Adams '22 are two students learning from home full-time who have managed to stay connected to the Marist Fam without physically being at school.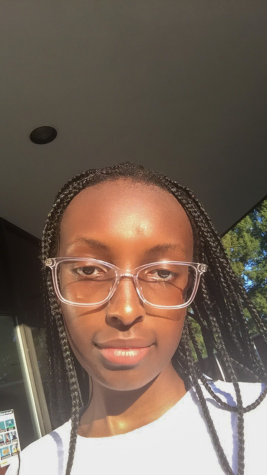 Ng'eny "doesn't feel too removed" from the Marist Fam because she has found ways to keep in contact with her friends and the school. During what she calls "Presentation Fridays," Ng'eny and her friends make and share PowerPoints about random topics to one another. 
She was worried that opting to learn virtually would prevent her from participating in activities and extracurriculars. However, due to the recent change that allows virtual students to participate in extracurricular activities, she was able to run for the cross country team during the season. Ng'eny also knows all-virtual classmates that were able to participate in the recent fall production of Unprecedented from the comfort of their own home!
One source of frustration for Ng'eny is that hybrid students often ask fully virtual students why they are not in school. "Some people are virtual because it's their preference," said Ng'eny, "or because they have specific reasons." 
Adams has relied on "DMing and texting" and "small get-togethers" to keep in touch with friends, which is how most Marist students keep in contact with their friends. "Sometimes we all have qualities that don't fit together perfectly, but that's what makes us, the Marist Fam. We're all different," Paris says while thinking hard on how she feels connected with the school's community during the pandemic. This is especially true now since COVID-19 does not allow us to see everyone everyday. Therefore, it is even more important to remember that we are all one Marist Fam despite our differences and despite not being able to be in contact with everyone.
Now that Marist is looking to increase student capacity on campus, the Marist Fam will grow stronger because we will all eventually be reunited. We still have the same energy that we bring to the Friday night football games every time we step on campus because we know how lucky we are to have a community that works so hard to keep us all connected.