Marist Students Prevail in Uncertain Times
During spring and summer, several Marist students took advantage of this extra time to further explore their passions.
The many long months of shutdown and quarantine meant that many students had extra time on their hands. What did you do to fight endless hours of boredom? Did you explore any new hobbies to occupy your time? Because several Marist students did. 
Before the month March 2020, Hannah Faklaris '24 had never decorated cookies before. However, when Faklaris's mom bought a simple cookie decorating kit, she was surprised to discover that she really enjoyed it. She knew this was something she wanted to pursue, so Faklaris created her own logo and Instagram account to begin her small business (@hannahs.homemade.goods).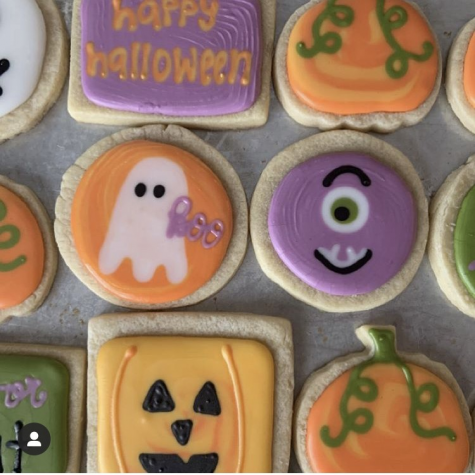 In April, Faklaris first shared Easter egg cookies with others and received overwhelmingly positive feedback from her neighbors. As her business began to grow, she received orders from strangers. Faklaris loves to create and come up with new designs and personalize them for holidays, and the pandemic has provided her with ample time to bake and perfect her technique. Instead of dwelling on canceled spring activities, Faklaris brought a little bit of sweetness into others' lives with her delicious cookies!
Tired of endless boredom, twin brothers John Sansone '23 and Joe Sansone '23 decided to build a tree fort in their backyard. With the help of their dad, they went to Home Depot to buy some plywood and immediately started building. The fort sits on a platform raised about one foot off the ground and supported by six trees. The tree fort has four walls but no roof yet.
Building the tree fort "helped occupy my extra free time after school," said John. helped occupy [his] extra free time after school since [he] didn't have much homework". The Sansones have not yet finished building the tree fort because of the hot summer weather and their busy school schedule, but they plan to finish it as soon as possible. What started as a time filler grew into a great outdoor hangout space that will last for years to come.
While some students discovered new talents within themselves, others already had existing hobbies that they advanced during the spring. Amelia Hay '22 hopes to work in the fashion industry one day. Originally inspired by an Instagram account, she loves to illustrate clothing designs inspired by the Met Gala. "I wasn't very good at first," said Hay, "but, I watched a lot of videos, practiced using reference photos, and began to improve."
When COVID-19 struck the country, Hay had much more time to focus on her art and illustrations. She started a small business commissioning paintings and selling posters that she designs. Hay runs her business through her art Instagram account, @ameliahayart, and during quarantine, she attended a virtual fashion course through the University of Georgia. The aspiring fashion designer found that she also loved illustrating her own line of clothing.
Madison Roberts '22's love for writing flourished in quarantine, and she expresses herself through stories, novels, and books. She started writing in fifth grade, but her interest really took off l in eighth grade. "I started writing because I wanted to publish my ideas," said Roberts, whose primary genres are science fiction and action.
In quarantine, she had many more hours to improve her writing skills. "I realized the value of outlining the plot of a story, something I hadn't done before". Roberts has written a two-novel series already, and she is now working on a stand-alone novel. Madison wants writing to be a hobby rather than her career, but she thinks it would be "super cool to have a published book one day."
Although many people struggled to stay busy this past spring, others saw the hidden gifts that a few months rest could provide. Students used these activities as their outlets when they couldn't be participating in their usual activities. I think we all discovered something new within ourselves from spring quarantine.